Posted

Filed under

5-Star Freeware
|| English || 中文 || view

6142

|| Tweet
공짜로 사용할 수 있는 강력한 디스크 조각 모음 프로그램인 JkDefrag가 8월 25일부로 3.17로 업데이트 되었다. 필요하다면 아래 링크로 다운로드하면 된다. 이전 버전에 비해 스캔 방식 등 비교적 상당 부분이 업데이트된 것으로 보인다.

JkDefrag v3.17 다운로드(ZIP. 370.5KB)


1137894004.zip
프로그램 홈페이지로 가기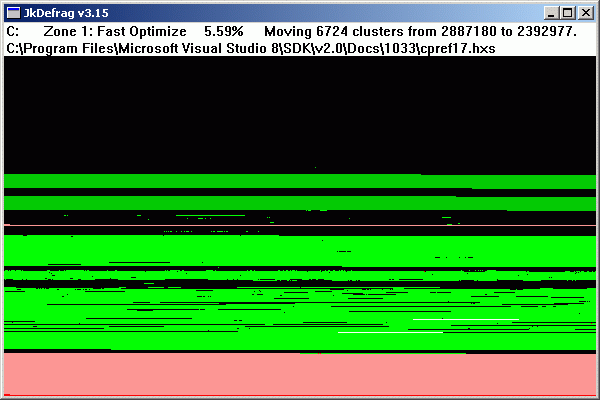 3.17에서 바뀐 점
- NTFS disks are now analysed by directly reading the MFT from disk. This is a lot faster, and finds more system files.
- NTFS streams are now supported and will be defragged and optimized.
- Added an icon.
- Added a version info resource to the executables.
- Added a manifest so Vista will always run JkDefrag with administrator privileges.
- Added support for short filenames. The masks now also work for short names, for example "PROGRA~1" (instead of "Program Files").
- Spacehogs are now shown in dark-green, regular files in light-green. Allocated space is now shown in grey, instead of black.
- Bugfix in redrawing the diskmap, to properly handle redraw-requests while redrawing.
- Files larger than 1 gigabyte are now closed and re-opened at 1 gigabyte intervals.
- Change in the fast optimize algorithm. When a gap cannot be perfectly filled the program now takes the highest file on disk that will fit, instead of the largest file. This reduces the amount of data moved and optimization will finish quicker.
- Added a special exception for the "?:\\BootAuth?.sys" files used by DriveCrypt.
- Added a few extra lines to the status report.
- The logfile now shows which command line options were used.
- Added to the default list of spacehogs:
?:\RECYCLED\* (FAT on 2K/XP)
?:\$RECYCLE.BIN\* (Vista)
?:\WINDOWS\Ehome\*
?:\WINDOWS\Fonts\*
?:\WINDOWS\Help\*
?:\WINDOWS\IME\*
?:\WINDOWS\Speech\*
?:\WINDOWS\Symbols\*
*.chm
*.mp3
*.pdf
*.bup
*.ifo
*.vob
*.avi
*.log
For programmers:
- All instances of CHAR changed into WCHAR. This has widespread implications in many locations. I am hoping the change will fix the problem that some users have reported on weird filenames.
- Renamed "JkDefrag.cpp" into "JkDefragLib.cpp"
- Renamed "JkDefrag.h" into "JkDefragLib.h"
- Renamed "JkDefragWindows.cpp" into "JkDefrag.cpp"
- Added "ScanNtfs.cpp" and "ScanNtfs.h"
- Several changes in the DefragDataStruct.
- Several changes in the "Makefile" to facilitate debugging.

Windows 2000, 2003, XP, Vista에서 모두 사용할 수 있는 이 프로그램은 설치해서 사용하는 것이 아니라 원하는 폴더에 넣어서 그냥 실행하면 된다. 화면 보호기 형태로도 사용할 수 있다.